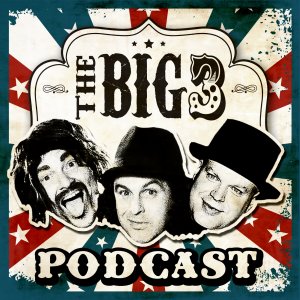 Welcome to the Big 3 Podcast.
Don Barris, Walter "Mole" Molinski and "Scary" Perry Caravello make up "The Big 3"!  Best known for their 2003 cult classic film "Windy City Heat", The Big 3 have been putting together live comedy shows since 1992 as well as having the number one rated public access show in America.
The trio was named by late night talk show star Jimmy Kimmel who after meeting them said, "I saw the three of them and I thought that they could become big so I thought the name The Big 3 was perfect."  They've also been called the Three Stooges of The New Millennium and now they are ready to conquer internet radio with their podcast.
After 42 podcasts at Adam Carolla's, "Ace Broadcasting" the guys took a chance and built their own studio at a secret location in West Hollywood, CA.  Plans are to have a podcast empire here at the Simply Don – The Podcast Network with the Big 3 Podcast being the corner stone.